Whether in our school teaching and work process, the use of Microsoft office PowerPoinT slides is essential to us. PPT visually and visually displays the content that needs to be expressed to the audience in the form of words, graphics, colors and animations, so that the audience is impressed with the meaning you want to express. Ppt is an artistic and aesthetic expression that is clear, concise and visual.
Adobe PDF (abbreviation for Portable Document Format, meaning "portable document format") is a file format developed by Adobe Systems for file exchange in a manner independent of applications, operating systems and hardware. Adobe PDF files to PostScript-based languages The images of the model, both in which the printer can ensure accurate color and accurate print results, faithfully reproduce the original Adobe PDF of each character, color and image. Adobe PDF is also becoming more and more popular in our lives and convenient for us. However, in the study office, we will often convert Adobe PDF files to Microsoft office PowerPoinT for use. This requires a converter that will perfectly help you convert.1. Open your browser and go to the home page of SanPDF.
SanPDF:
1. Open your browser and go to the home page of SanPDF.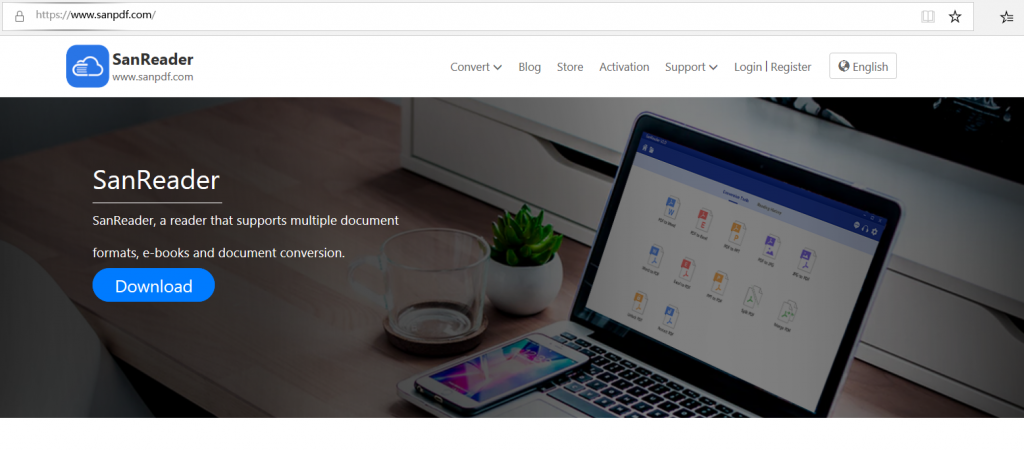 2. Click the "convert" navigation bar and select "PDF to PPT" to enter the conversion page, click "choose File", and then select the Adobe PDF file to be converted.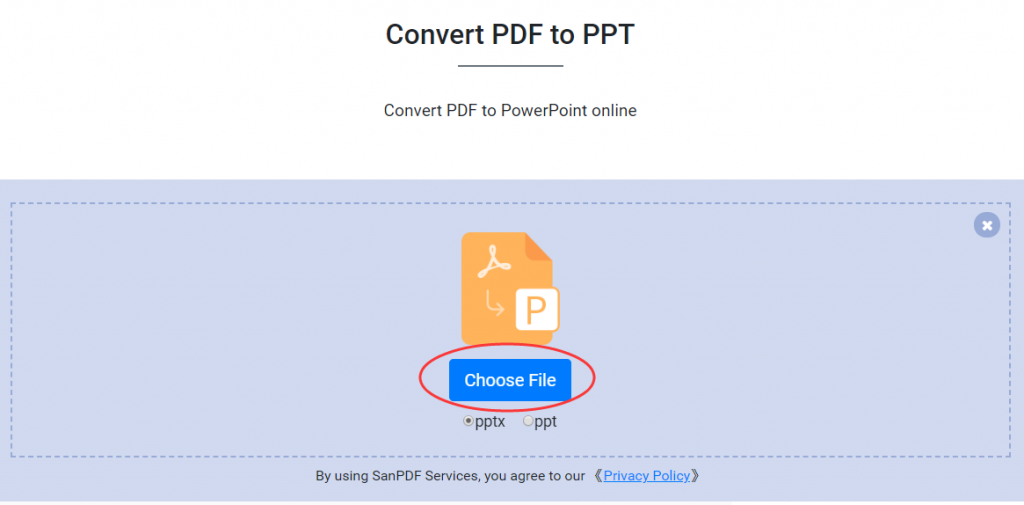 3. Click "start conversation" to start converting the file format.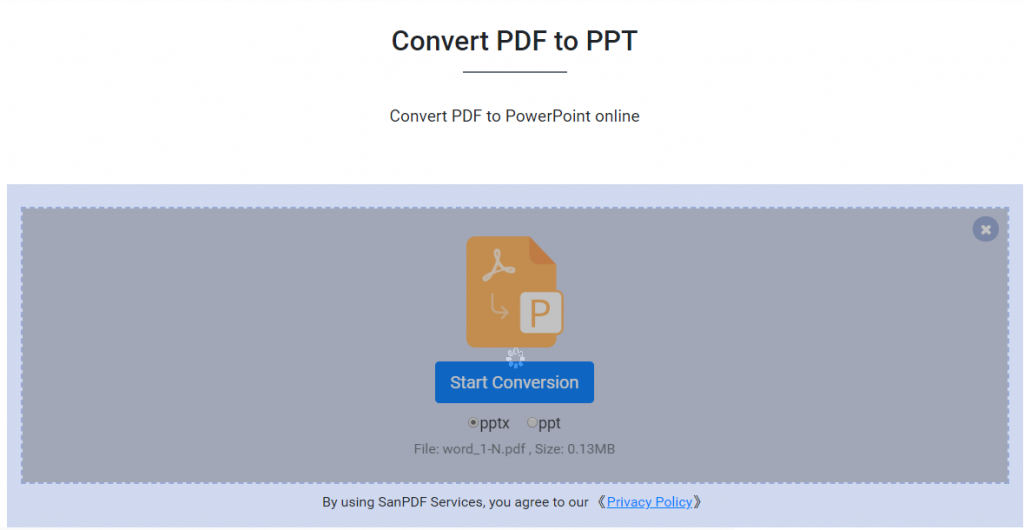 4. Click "download" to save the converted file.
Q: I can't find my conversion file / Where is my file?
If you have not yet registered your SanPDF account and converted files using the online converter, download the converted file immediately and keep it safe after the conversion is complete. Once the conversion page is closed, you will not be able to download the converted file. If you have already signed up for a SanPDF account, you can log in to your account within 24 hours of the conversion, find the converted file in the conversion history list and download it. Please note! To ensure the security of your files, SanPDF's servers automatically and permanently delete converted files after 24 hours. Therefore, be sure to download and keep it as soon as possible after the conversion.
limit:
Unregistered users have 10 conversions, only 2MB files can be converted at a time, and the time limit is two hours. If you want unlimited processing and multiple pdf to word, check out our store, which will enable this feature as well as many other permissions.
Safety:
SanPDF respects privacy. After 24 hours of file conversion, they will always be removed from our server. For more information, please read our privacy policy.
Not only that, SanPDF has a lot of features waiting for you to explore. Due to space limitations, skip here. Such a useful online document conversion artifact. Are you sure you don't want to use it?
The second online converter:
1. Go to the home page by entering the URL document.online-convert.com. Click Convert to PPT. Then select "choose file" to upload the PDF file to be converted.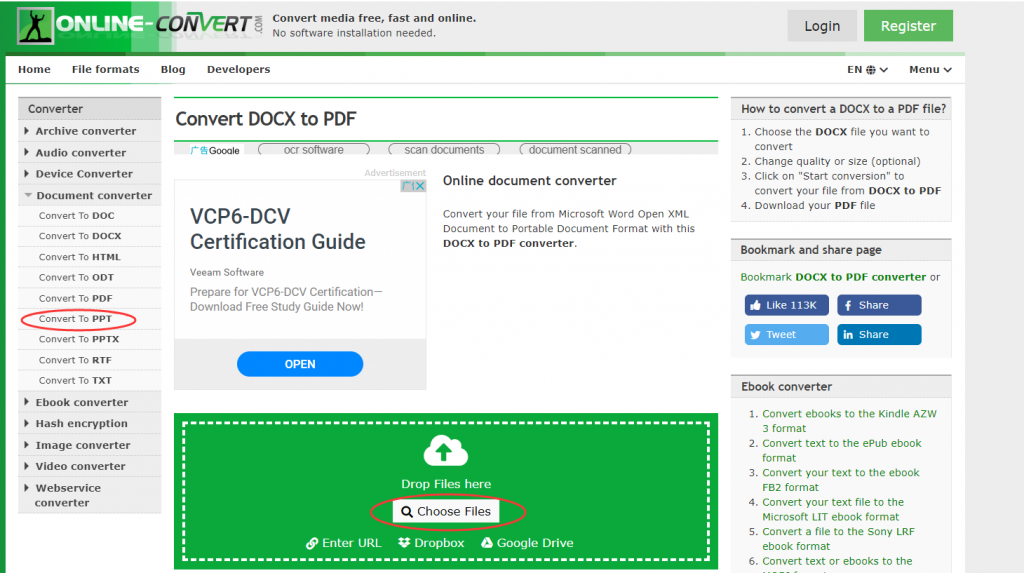 2. Click on "start conversation" to start converting PDF files.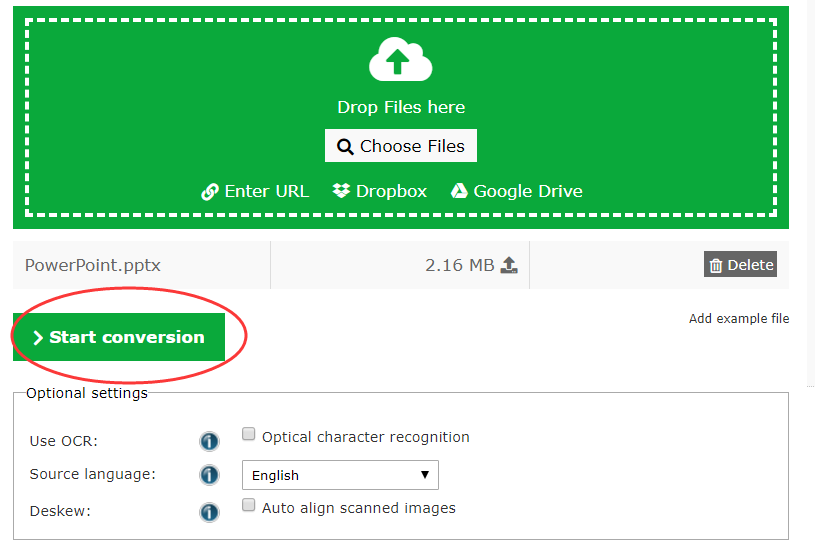 3. Finally click "download" to download the converted PPT file.

Compared to the two converters, I am more SanPDF converter. because
1. SanPDF not only has a web version but also a desktop version. Really convenient
2. SanPDF Reader is a reader that supports multiple document formats, e-books and document format conversion.
Support Adobe PDF, XPS, DjVu, CHM, Mobi, EPUB e-books, comic books and other documents and e-book formats. It can also provide PDF and Office format conversion, Adobe PDF and JPEG, PNG, BMP image format conversion, and PDF document segmentation and merging functions.