How is Word converted to Adobe PDF? I believe everyone knows how to convert Adobe PDF to Microsofe office Word . It is a bit tricky for Microsofe office Word to Adobe PDF documents. When there are a lot ofMicrosofe office Word documents, we will feel very cumbersome. Don't worry, here are one  simple ones for everyone. The method of converting Microsofe office Word documents into Adobe PDF format, I hope to help everyone!
Microsoft Office Word (.doc, .docx) documentation is not as convenient as SanPDF for cross-platform use. In addition, Microsoft Office Word (.doc, .docx) documents can be edited and modified to be less secure and reliable than SanPDF. Moreover, it is often difficult to reflect layout information formatted by other editing software, and there are certain restrictions on its use.
Why do we want to use Adobe PDF?
Using a Adobe PDF file has the following benefits:
1, cross-platform
The Adobe PDF file format is independent of the operating system platform. SAdobe PDF files are common on Windows, Unix or Apple Mac OS. Not limited by the platform. More and more e-books, product descriptions, company announcements, web profiles and emails start using Adobe PDF files.
2, high security, not easy to modify
Adobe PDF is a general file format. Regardless of which application and platform you use to create the source document, it preserves the font, image, graphics, and layout settings of any source document. It has become the de facto standard for the secure distribution and exchange of electronic documents and spreadsheets in the world.
3. The Adobe PDF file format is more formal than the text format file.
Next, let me share two ways to convert Microsoft Office Word (.doc, .docx) online to San Adobe PDF.
Just learn how to use the SanPDF online converter, the following steps
1:Enter the website SanPDF.com in the browser to go directly to the main page. The blog of the home page can view examples of related conversions. English can switch the language you want.

2.Click "Convert" in the navigation bar to see the functions of the converter. Click "Word to PDF Converter".

3.Click on "Choose File" in the figure below to select the file you need to convert to ADOBE PDF.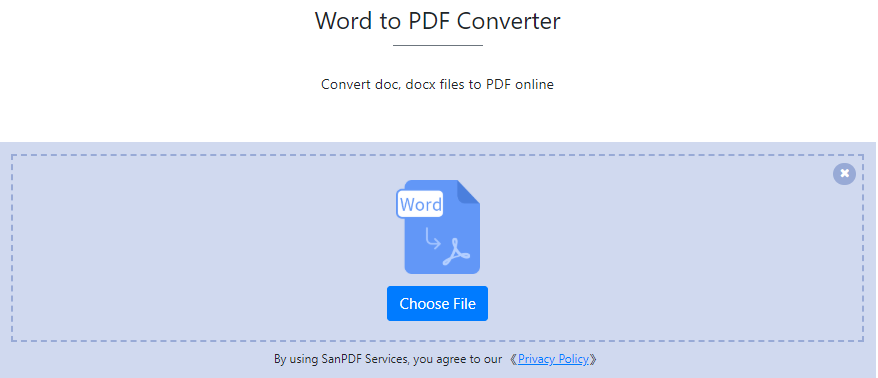 4.Click "Start Conversion" in the figure below to start converting to a Word document.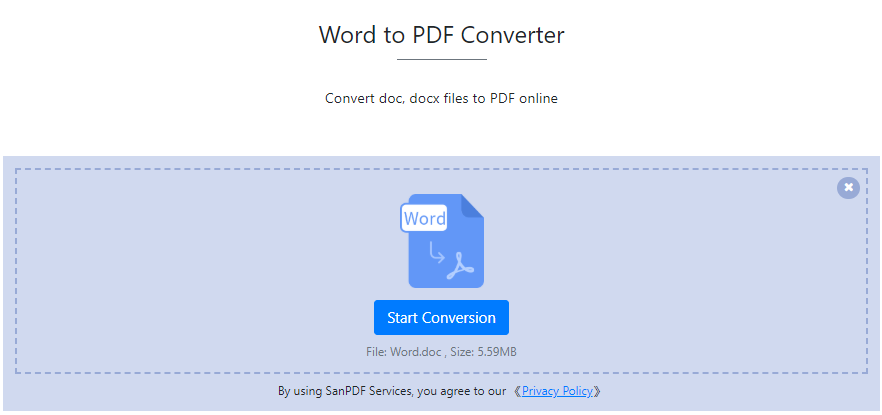 5.After converting to a Word document, you can download it by clicking "Download" in the image below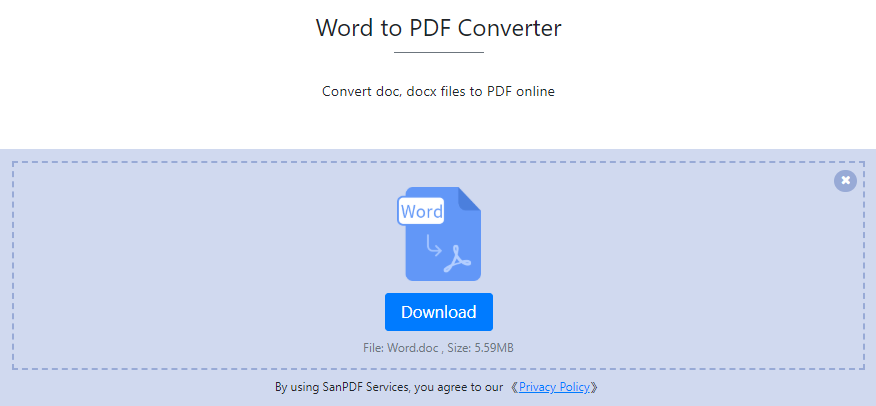 Q: I can't find the file I converted / Where is my file?
A: You have not registered your SanPDF account and converted files using the online converter. Please download the converted file immediately and keep it safe after the conversion is completed. Once the conversion page is closed, you will not be able to download the converted file. If you have already signed up for a SanPDF account, you can log in to your account within 24 hours of the conversion, find the converted file in the conversion history list and download it. Please note! To ensure the security of your files, SanPDF's servers automatically and permanently delete converted files after 24 hours. Therefore, be sure to download and keep it as soon as possible after the conversion.