The PDF file format is more formal than the official format in the Word format document. Word documents are not as convenient as PDFs in terms of cross-platform use. And you can edit Word documents and are not as good as PDF in terms of security and reliability. It is often difficult to reflect layout information formatted with other editors, and its use has certain limitations. So, at work, we have to convert Word documents to PDF for convenience, but I want to have a convenient and concise conversion process. This requires a perfect converter. Then I will share with you one that I think is great. Converter – SanPDF online converter.
What is PDF?
PdF (abbreviation for Portable Document Format, meaning "portable document format") is a file format developed by Adobe Systems for file exchange in a manner independent of applications, operating systems and hardware. PDF files to PostScript-based languages The images of the model, both in which the printer can ensure accurate color and accurate print results, faithfully reproduce the original PDF of each character, color and image.
Advantages of PDF:
1. The general company's public documents are sent to employees in PDF format, because PDF can prevent others from inadvertently touching the keyboard to modify the file content.
2. In addition, when we edit the graduation design report in text and send it to the instructor for review, it is also recommended to use the PDF format. Because there is no office version of the word, there may be formatting confusion, but PDF does not.
3. In addition, when the document is converted to PDF format, the occupied storage space will be reduced and it will be easier to transfer.
4. Converting to PDF can avoid the incompatibility and font replacement problems generated by other software, thus improving the flexibility of the document.
5. The software page for reading PDFs is relatively simple. It is more convenient for the user to browse the page, and can be enlarged or reduced at will.
6, PDF documents can be converted from a variety of software. Such as office word or Photo Shop can be converted to PDF format.
7, PDF format also supports printing and adding comments and other content. When reading a document, we can add comments to what we read while reading, which is convenient and practical.
Word has two file formats, doc and docx.
1. DOC is the default document format for editing. Prior to Word 2003, DOCX was the default document format that was edited after Word 2007.
2, DOC files can be opened with all Word, and DOCX documents can only be opened with Word2007.
3, DOCX opens faster than response speed DOC.
4. DOCX is smaller than DOC.
The following is the operation guide, please pick it up!
1. Open a browser and enter SanPDF.com to go to the SanPDF homepage. Click "download" to download the PC side of the converter.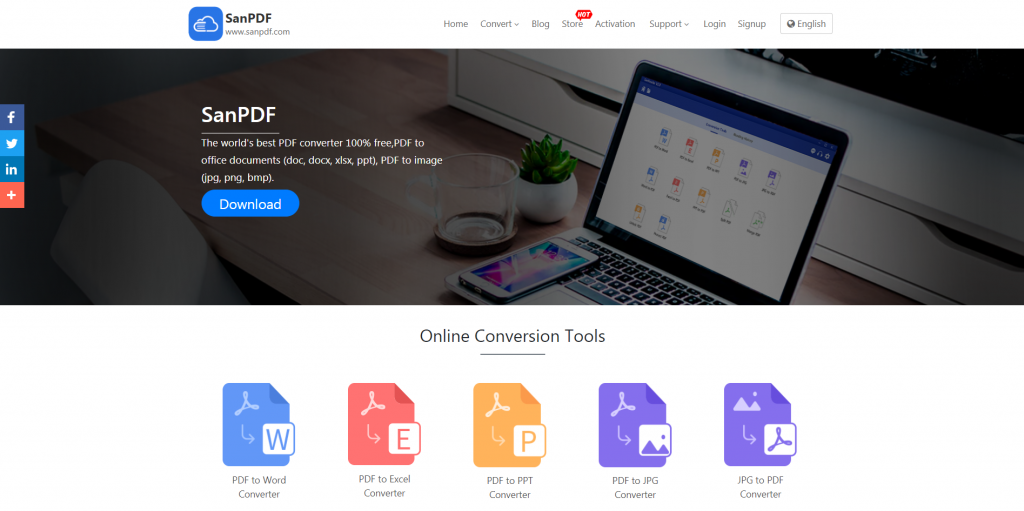 2. After the download and installation is complete, open the PC that appears on the desktop and the following page will appear. Click "Word to PDF".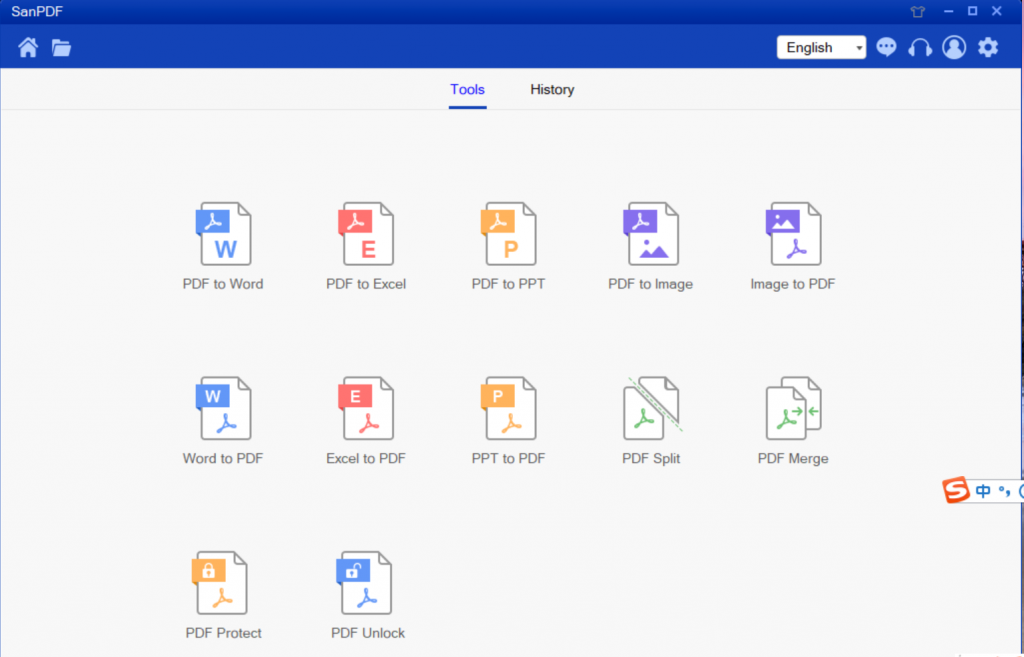 3. Click on "Add File" and select the word document you want to convert. Click "Start conversion" to start the conversion. Wait a moment. And click on "save" in the upper column to select the directory you want to save.

4. After the conversion is complete, click on the directory you saved earlier to view it.
Q: I can't find my conversion file / Where is my file gone?
If you have not yet registered your SanPDF account and converted your files using an online converter, download the conversion file for immediate conversion and keep it safe when the conversion is complete. After the conversion page is closed, you will not be able to download the converted file. If you have already registered your SanPDF account, you can log in to your account and find the converted file conversion history list and download it within 24 hours of conversion. Please note! Keep your files safe, SanPDF's server automatically and permanently deletes the converted files 24 hours later. Therefore, please be sure to download and properly protect