In everyday office or in life Adobe PDF is a common file format that preserves all fonts, formats, colors, and graphics of any source document, regardless of the application and platform used to create the document.we often need to convert Microsoft Office Excel (.xls, .xlsx) documents into Adobe PDF documents. The following method can quickly help you solve the troubles from Excel to Adobe PDF, I hope to help everyone.
Use the SanPDF online converter:
1.Enter the website SanPDF.com in the browser to go directly to the main page. The blog in the upper navigation bar can view examples of related conversions. English can switch the language you want. Rich and simple.

2.Click the "Convert" option in the navigation bar and select the conversion type "Excel to Adobe PDF" in the menu is a one-click operation.

3."Choose File" in the figure below selects the file you need to convert to Microsoft Office Excel.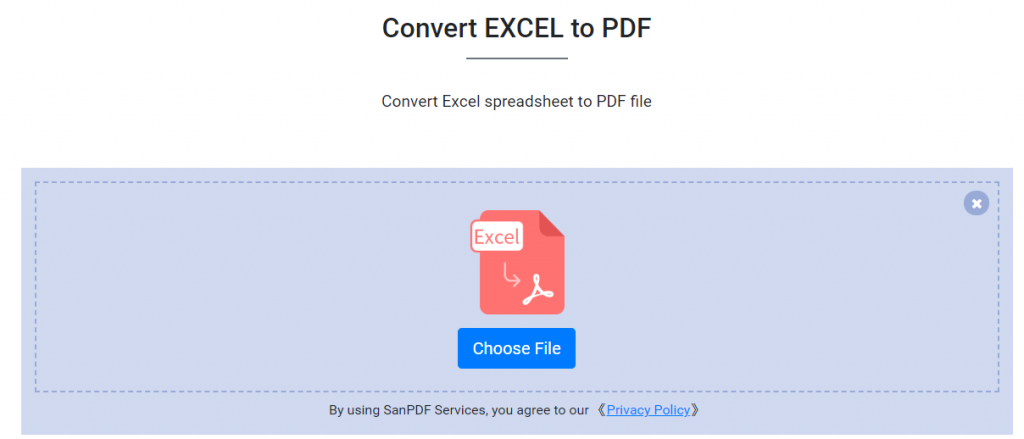 4."Download" in the figure below starts downloading Adobe PDF files.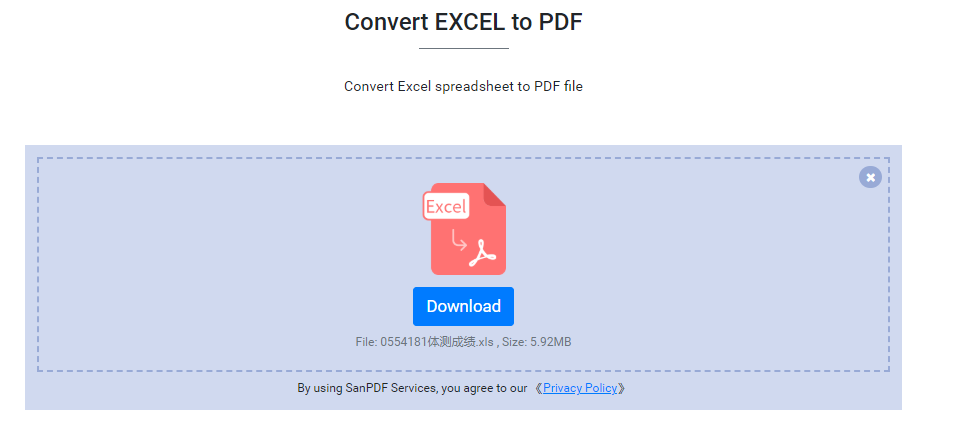 Q: I can't find the file I converted / Where is my file?
A: You have not registered your SanAdobe PDF account and converted files using the online converter. Please download the converted file immediately and keep it safe after the conversion is completed. Once the conversion page is closed, you will not be able to download the converted file. If you have already signed up for a SanAdobe PDF account, you can log in to your account within 24 hours of the conversion, find the converted file in the conversion history list and download it. Please note! To ensure the security of your files, SanAdobe PDF's servers automatically and permanently delete converted files after 24 hours. Therefore, be sure to download and keep it as soon as possible after the conversion.
limit:
Unregistered users have 10 conversions and can only convert 2MB files at a time, with a time limit of 2 hours. If you want unlimited processing and multiple pdf to word, check out our store, which will enable this feature as well as many other permissions.
Safety:
We respect privacy. After 24 hours of file conversion, they will always be removed from our server. For more information, please read our privacy policy.
SanAdobe PDF can help you increase your efficiency and save more time for a colorful life.
The SanAdobe PDF online converter is easy and convenient.
The demo format of SanAdobe PDF does not cause problems with the conversion process. Please feel free to use it and see how it works. The file conversion is complete and can be edited! And for all operating systems Excel Converter Adobe PDF service is available for all computers – your operating system does not affect the conversion. Whether you are Windows or MAC!
Why use SanAdobe PDF to convert Excel to Adobe PDF?
SanAdobe PDF Reader is a reader that supports multiple document formats, e-books and document format conversions.
Support Adobe PDF, XPS, DjVu, CHM, Mobi, EPUB e-books, comic books and other documents and e-book formats.
It can also provide Adobe PDF and Office format conversion, Adobe PDF and JPEG, PNG, BMP image format conversion and Adobe PDF document segmentation and merging functions.