The MICROSOFT OFFICE EXCEL (.XLS, .XLSX) form file is a report format for doing some work reports, financial statements, work record sheets, etc. in normal work. Financial statements, this is generally about the company's money, it is more important to encrypt, but MICROSOFT OFFICE EXCEL (.XLS, .XLSX) spreadsheet is not allowed, then you need to convert its format to operate to encrypt it. However, if you want to modify the editing, you will need to convert the ADOBE PDF to MICROSOFT OFFICE EXCEL (.XLS, .XLSX) for editing.
How to convert ADOBE PDF to MICROSOFT OFFICE EXCEL (.XLS, .XLSX) form? Some of the data content in the ADOBE PDF file we use is rendered using a form. The contents of the form in this ADOBE PDF file cannot be edited and modified. If you need to modify one of the contents, we need to convert the ADOBE PDF into an MICROSOFT OFFICE EXCEL (.XLS, .XLSX) form.

2. Select "Convert" in the navigation bar and click " PDF to Excel " to convert the tool;

3. Click the "Choose File" button to select the ADOBE PDF file you want to convert;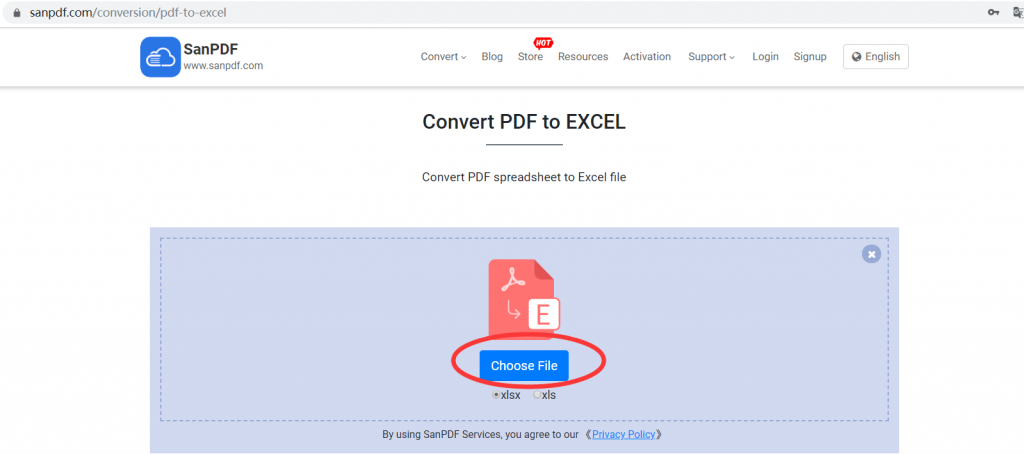 4. After the conversion is completed, save the file and save it.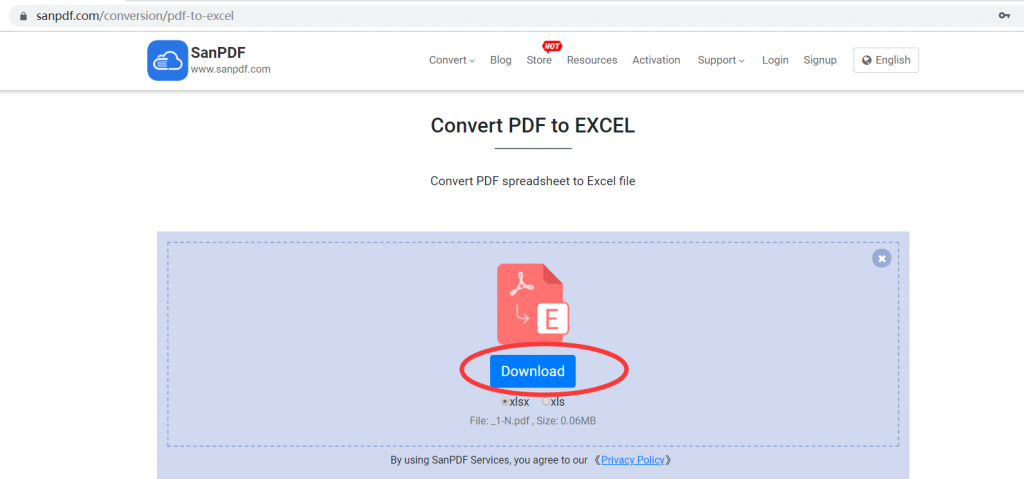 The above method for converting the ADOBE PDF file of SanPDF converter to MICROSOFT OFFICE EXCEL (.XLS, .XLSX) table is very simple. Many times these tips can help us solve many problems in life. As long as you look for it, your difficulties will always be To solve ~
Advantage:
1. SanPDF is a reader that supports multiple document formats, e-books and document format conversions.
2. Support ADOBE PDF, XPS, DjVu, CHM, Mobi, EPUB e-books, comic books and other documents and e-book formats.
3, It can also provide Adobe PDF and Office format conversion, Adobe PDF and JPEG, PNG, BMP image format conversion, and ADOBE PDF document segmentation and merge functions.
4, desktop and web, convenient and comfortable. Both desktop and web versions can meet your needs anytime, anywhere.
5, the desktop version supports Microsoft Windows XP / Vista / 7/8/10, Web version. Support for Microsoft Windows / Mac OS / Linux and other operating systems.
6, graphic design style, the operation interface is simple and refreshing.
No matter what you want, a variety of reading formats. From now on, you don't have to install a variety of e-book readers on your computer, SanPDF can meet your needs. Multiple document exchanges increase efficiency. It can help you work more efficiently, save more time and enjoy a colorful life.
Q: I can't find my conversion file / Where is my file?
If you have not yet registered your SanPDF account and converted files using the online converter, download the converted file immediately and keep it safe after the conversion is complete. Once the conversion page is closed, you will not be able to download the converted file. If you have already signed up for a SanPDF account, you can log in to your account within 24 hours of the conversion, find the converted file in the conversion history list and download it. caution! To ensure the security of your files, SanPDF's servers automatically and permanently delete converted files after 24 hours. Therefore, be sure to download and keep it as soon as possible after the conversion.