For some people who use the usual forms, the Adobe PDF file is a good thing, and the ADOBE PDF file is a good thing for the customer. However, the shortcoming is that when the client sends a form in Adobe PDF file format, it cannot be directly modified and can only be viewed. Because the characteristics of ADOBE PDF is that it can't be edited, there is a better way to save all the contents of the file.
1.Before converting ADOBE PDF to Microsoft Office Excel(.xls,.xlsx), let me talk about the conversion premise of converting ADOBE PDF files to Microsoft Office Excel(.xls,.xlsx) tables:
2. The electronic file of the ADOBE PDF format file is not encrypted;
3. The ADOBE PDF file is not compressed by other software;
4. The ADOBE PDF file is not a scanned file, nor is it a ADOBE PDF file converted from a picture.
If the above conditions or other conditions are not met, there may be some problems with the converted Microsoft Office Excel(.xls,.xlsx) spreadsheet.
Next, let's talk about how to convert a ADOBE PDF file to an Microsoft Office Excel(.xls,.xlsx) spreadsheet:
1. Open the home page of SanPDF Converter;

2. Select "Convert" in the navigation bar and click "PDF to Excel" to convert the tool;

3. Click the "Choose File" button to select the ADOBE PDF file you want to convert.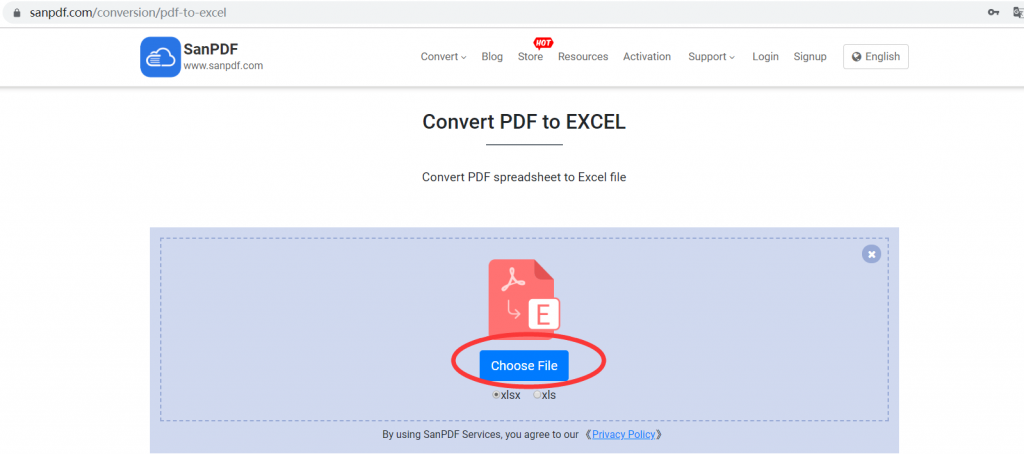 4. After the conversion is completed, download and save the file.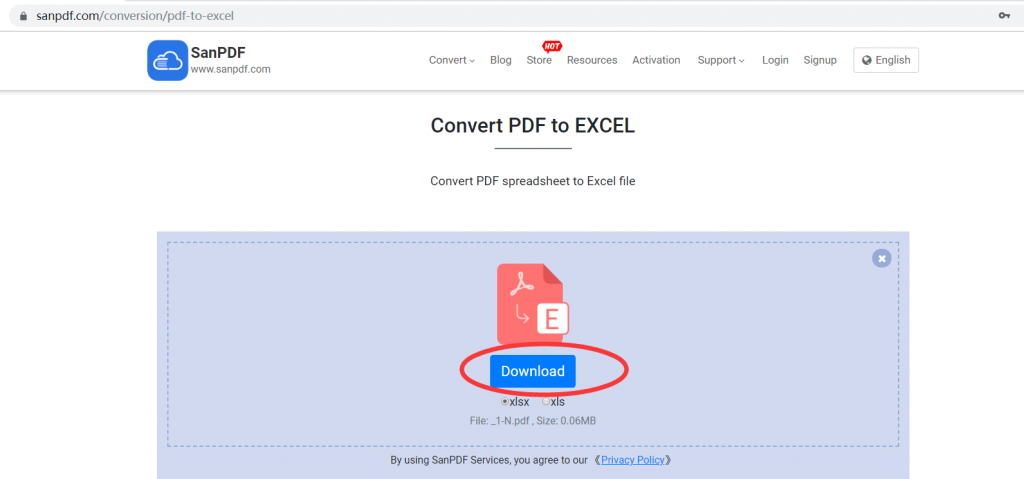 The above method for converting the ADOBE PDF file of SanPDF converter to Microsoft Office Excel(.xls,.xlsx) table is very simple. Many times these tips can help us solve many problems in life. As long as you look for it, your difficulties will always be To solve ~
What are the advantages of SanPDF?
1. Quick conversion;
2. One-button operation, quick start, zero learning cost. The powerful core conversion speed is fast, effectively improving work efficiency, and there is no difference between high-precision conversion and source file layout;
3. Convert the enhanced version of the kernel, accurately read the source file layout location, image size, font, font size to ensure high fidelity of the exported file and source files;
4. One-click batch conversion;
5. Batch processing folders, uploading folders for batch conversion, eliminating repetitive work and improving work efficiency.
6. Conversion data protection;
7. Locally converted document content is more secure, blocking web crawlers, Trojan horses and other channels for stealing data, and data is more secure.
Q: I can't find my conversion file / Where is my file?
If you have not yet registered your SanPDF account and converted files using the online converter, download the converted file immediately and keep it safe after the conversion is complete. Once the conversion page is closed, you will not be able to download the converted file. If you have already signed up for a SanPDF account, you can log in to your account within 24 hours of the conversion, find the converted file in the conversion history list and download it. Please note! To ensure the security of your files, SanPDF's servers automatically and permanently delete converted files after 24 hours. Therefore, be sure to download and keep it as soon as possible after the conversion.