So how do we merge multiple ADOBE PDFs into one ADOBE PDF? Today I share with you an excellent ADOBE PDF merge tool on Windows 10 and Mac-SanPDF Converter. SanPDF Converter can help us quickly convert and edit ADOBE PDF files.
So how do we merge multiple PDFs into one ADOBE PDF? Today I share with you an excellent ADOBE PDF merge tool on Windows 10 and Mac-SanPDF Converter. SanPDF Converter can help us quickly convert and edit ADOBE PDF files.
Win10 Introduction:
Windows 10 is an operating system for computers and tablets developed by Microsoft Corporation in the United States. It was released on July 29, 2015. The Windows 10 operating system has been greatly improved in terms of ease of use and security.In addition to integrating new technologies such as cloud services, smart mobile devices, and natural human-computer interaction, it also includes solid-state drives, biometrics, and high-resolution screens. And other hardware has been optimized and improved.
MAC Introduction:
Macintosh computers (Macintosh, Mac for short, commonly known as Macs in Hong Kong and Mac computers or Macintosh computers in mainland China) are a series of personal computers of Apple Computer. Macintosh was named by the founder of the Macintosh project, Jeff Raskin, after his favorite apple variety, Mcintosh, but to avoid conflicts with the name of the audio equipment maker McIntosh Laboratory, He intentionally changed the spelling of the letters.
The steps to merge Adobe PDF are as follows:
1. Open your browser and go to the SanPDF homepage, click "Download" to download and install SanPDF's PC;

2. Open the PC side of SnaPDF and click "PDF Merge";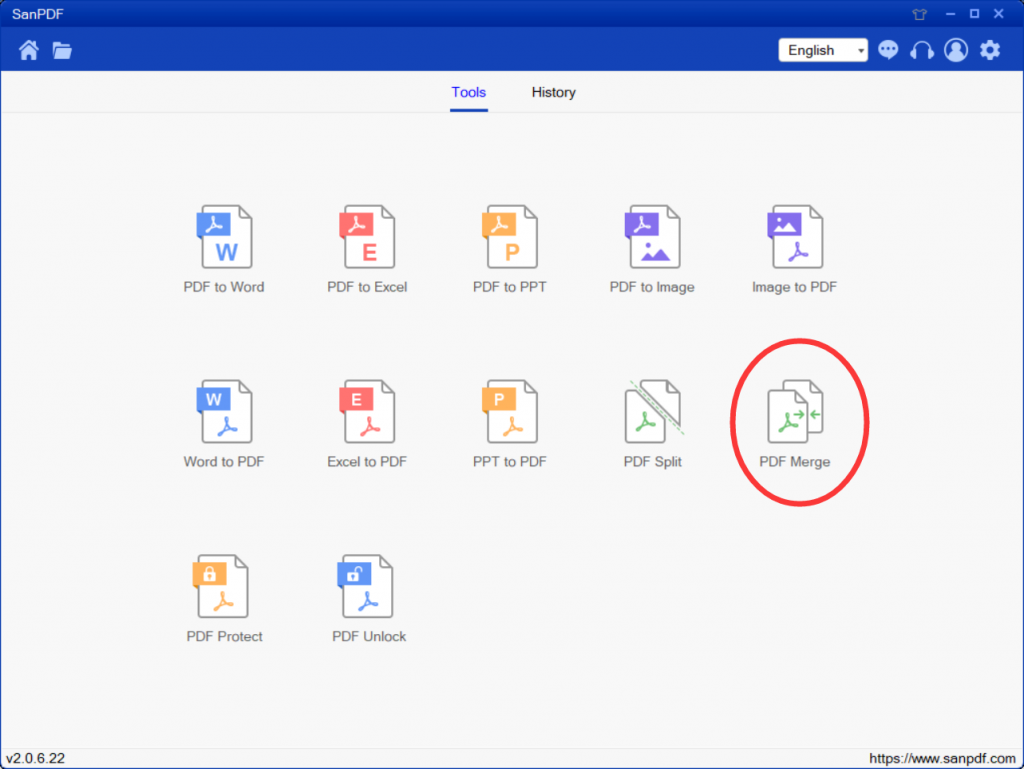 3. First click the "Save" button to select the location where the files are automatically saved after merging, and then click "Add File" to add the PDF files to be merged;
4. Click "Merge" to start merging;

5. Finally find the location where the file is saved and open it.
The ADOBE PDF merge method of the SanPDF converter introduced above is not very simple. Many times these small tips can help us solve many problems in life. As long as you look hard, your difficulties will always be solved ~
Advantage:
1. SanPDF is a reader that supports multiple document formats, e-books and document format conversions.
2. Support ADOBE PDF, XPS, DjVu, CHM, Mobi, EPUB e-books, comic books and other documents and e-book formats.
3, It can also provide Adobe PDF and Office format conversion, Adobe PDF and JPEG, PNG, BMP image format conversion, and ADOBE PDF document segmentation and merge functions.
4, desktop and web, convenient and comfortable. Both desktop and web versions can meet your needs anytime, anywhere.
5, the desktop version supports Microsoft Windows XP / Vista / 7/8/10, Web version. Support for Microsoft Windows / Mac OS / Linux and other operating systems.
6, graphic design style, the operation interface is simple and refreshing.
No matter what you want, a variety of reading formats. From now on, you don't have to install a variety of e-book readers on your computer, SanPDF can meet your needs. Multiple document exchanges increase efficiency. It can help you work more efficiently, save more time and enjoy a colorful life.
Q: I can't find my conversion file / where is my file?
If you haven't registered for a SanPDF account and converted files using an online converter, download the converted file now and keep it safe after the conversion is complete. After the conversion page is closed, you will not be able to download the converted file. If you have a SanPDF account, you can log in to your account within 24 hours after conversion, find the converted file in the conversion history list and download it. caution! To keep your files safe, SanPDF's server automatically and permanently deletes the converted files after 24 hours. Therefore, be sure to download and keep it right after the conversion.
Limit:
Unregistered users have 10 conversions, only 2MB files can be converted at a time, and the time limit is two hours. If you want unlimited processing and multiple pdf to word, check out SanPDF's store, which will enable this feature and many other permissions.
Safety:
After 24 hours of file conversion, they will always be deleted from SanPDF's servers. For more information, read SanPDF's privacy policy.