Many people use the ADOBE PDF file with a large number of pages to split the ADOBE PDF file first. How to split a ADOBE PDF into multiple ADOBE PDF files? The ADOBE PDF conversion tool helps us split ADOBE PDF files quickly and easily. The ADOBE PDF conversion function, in addition to the basic ADOBE PDF conversion function, also has a ADOBE PDF split function. So how do we complete the ADOBE PDF split in the ADOBE PDF converter?
The steps to split Adobe PDF are as follows:
1. Open a browser and go to the SanPDF homepage, click "download" to download and install the PC side of SanPDF;

2. Open the PC side of SnaPDF and click on "PDF Split";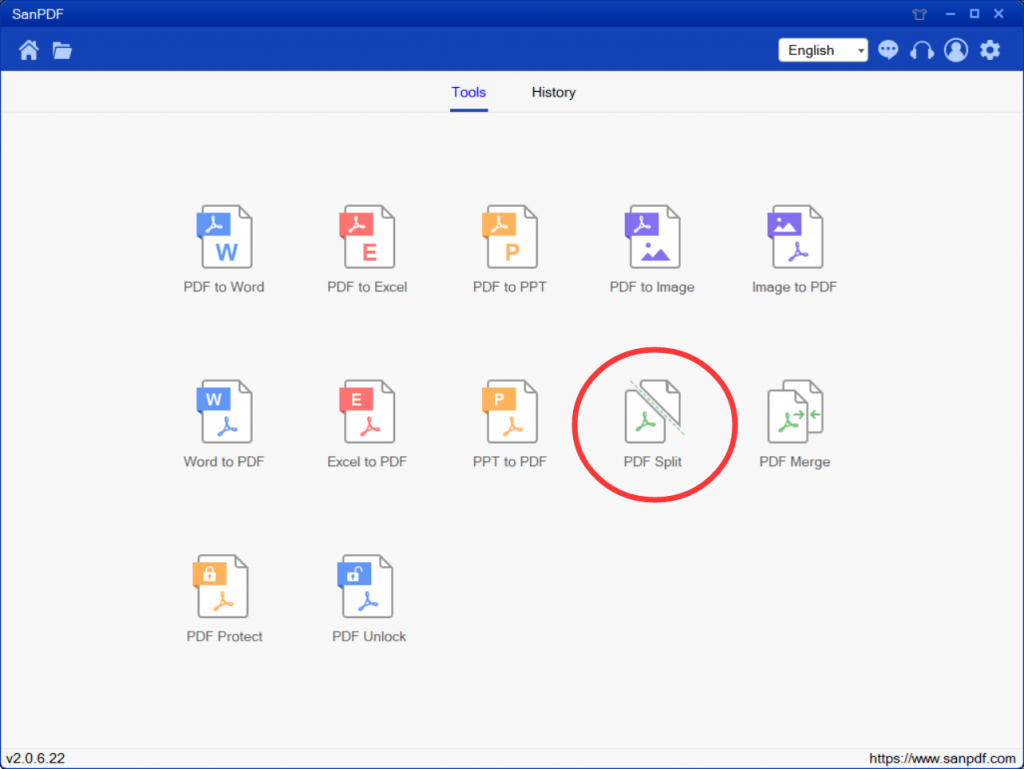 3. Click "Add files" to add a ADOBE PDF file that needs to be split;

4. Click on "Spilt" to start splitting the file;

6. After the split is complete, you can click "Browse" to preview the file.

What is ADOBE PDF?
PDF (short for Portable Document Format, meaning "portable document format") is a file format developed by Adobe Systems for file exchange in a manner independent of applications, operating systems, and hardware. ADOBE PDF files are based on the PostScript language image model, ensuring accurate color and accurate printing on any printer, ie ADOBE PDF faithfully reproduces every character, color and image of the original.
The Portable Document Format is an electronic file format. This file format is independent of the operating system platform, that is, ADOBE PDF files are common to Windows, Unix, and Apple's Mac OS operating system. This feature makes it an ideal document format for electronic document distribution and digital information dissemination on the Internet. More and more e-books, product descriptions, company announcements, web materials, and e-mails are starting to use ADOBE PDF files.
Adobe's design of the ADOBE PDF file format is intended to support cross-platform, multimedia-integrated information publishing and distribution, and in particular to provide support for the distribution of network information. To achieve this, ADOBE PDF has many advantages over many other electronic document formats. The ADOBE PDF file format encapsulates text, fonts, formats, colors, and graphic images independent of device and resolution in a single file. The format file can also contain electronic information such as hypertext links, sounds and motion pictures, support for special files, and high integration and security.
advantage:
1,SanPDF is a reader that supports multiple document formats, e-books and document format conversions.
2, Support ADOBE PDF, XPS, DjVu, CHM, Mobi, EPUB e-books, comic books and other documents and e-book formats.
3, It can also provide Adobe PDF and Office format conversion, Adobe PDF and JPEG, PNG, BMP image format conversion, and ADOBE PDF document segmentation and merge functions.
4, desktop and web, convenient and comfortable. Both desktop and web versions can meet your needs anytime, anywhere.
5, the desktop version supports Microsoft Windows XP / Vista / 7/8/10, Web version. Support for Microsoft Windows / Mac OS / Linux and other operating systems.
6, graphic design style, the operation interface is simple and refreshing.
No matter what you want, a variety of reading formats. From now on, you don't have to install a variety of e-book readers on your computer, SanPDF can meet your needs. Multiple document exchanges increase efficiency. It can help you work more efficiently, save more time and enjoy a colorful life.