About ADOBE PDF:
Pdf (short for Portable Document Format, meaning "portable document format") is a file format developed by Adobe Systems for file exchange in a manner independent of applications, operating systems, and hardware. ADOBE PDF files are based on the PostScript language image model, ensuring accurate color and accurate printing on any printer, ie ADOBE PDF faithfully reproduces every character, color and image of the original.
The Portable Document Format is an electronic file format. This file format is independent of the operating system platform, that is, ADOBE PDF files are common to Windows, Unix, and Apple's Mac OS operating system. This feature makes it an ideal document format for electronic document distribution and digital information dissemination on the Internet. More and more e-books, product descriptions, company announcements, web materials, and e-mails are starting to use ADOBE PDF files.
Adobe's design of the ADOBE PDF file format is intended to support cross-platform, multimedia-integrated information publishing and distribution, and in particular to provide support for the distribution of network information. To achieve this, ADOBE PDF has many advantages over many other electronic document formats. The ADOBE PDF file format encapsulates text, fonts, formats, colors, and graphic images independent of device and resolution in a single file. The format file can also contain electronic information such as hypertext links, sounds and motion pictures, support for special files, and high integration and security.
For ordinary readers, e-books made with ADOBE PDF have the texture and reading effect of the paper version, which can realistically display the original appearance of the original book, and the display size can be arbitrarily adjusted to provide readers with a personalized reading method.
Why convert MICROSOFT OFFICE POWERPOINT (.PPT, .PPTX) to ADOBE PDF?
Compared with MICROSOFT OFFICE POWERPOINT (.PPT, .PPTX), ADOBE PDF is more portable, and ADOBE PDF is not editable, making ADOBE PDF files difficult to change and more secure.
Therefore, in the work, we often change the content and results of MICROSOFT OFFICE POWERPOINT (.PPT, .PPTX), and often convert it to ADOBE PDF and then send it to others for reading.
So how do you convert a MICROSOFT OFFICE POWERPOINT (.PPT, .PPTX) to a ADOBE PDF?
1、Go to the SanPDF homepage;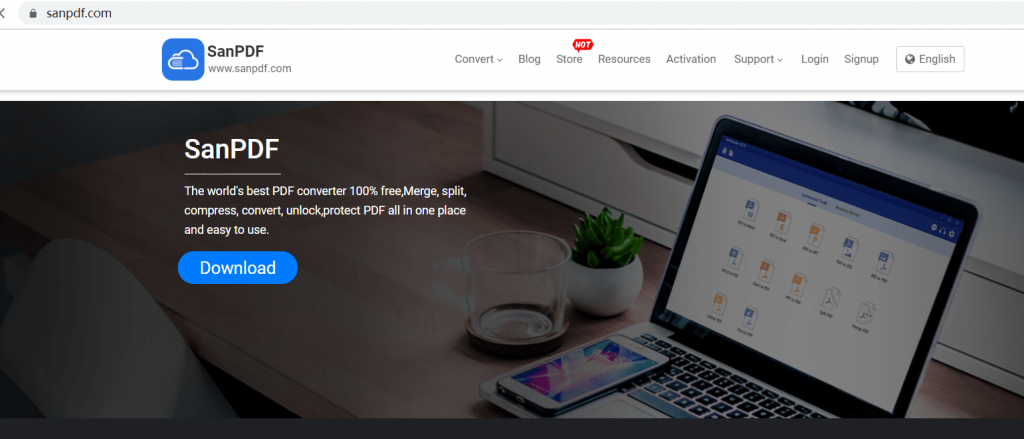 2、Select "Convert" in the navigation bar and click "PPT to PDF" to convert the tool;

3、Click the "Select File" button to select the MICROSOFT OFFICE POWERPOINT (.PPT, .PPTX) file you want to convert;

4、After the conversion is complete, save the file and save it.

How do I view the converted file?
After you have successfully converted the file, please carefully select the path saved by the file after the conversion is successful, and remember the file save path you selected at that time. Because our products protect the user's file privacy, the converted file will be permanently deleted after you save the file and exit the conversion path for 24 hours.
Will the converted file be leaked?
Our products respect and protect user privacy, and the converted files will be automatically and permanently deleted after 24 hours